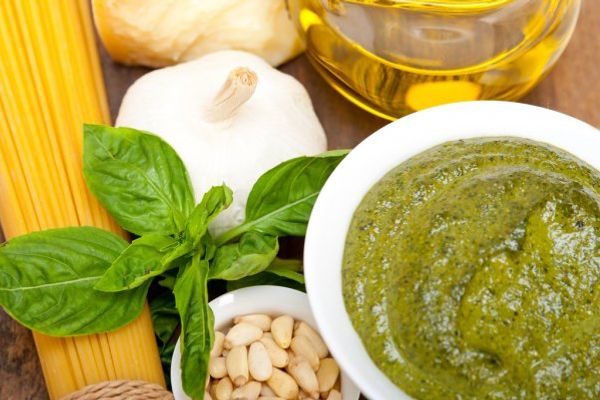 Genovese Pesto:
authentic Italian basil pesto.
Genovese Pesto | History | Liguria
During the Middle Ages, the wealthy of Liguria used to spice up their meals, while the poor would pick up aromatic herbs to add taste to their bland soups.
The Genovese Pesto recipe is thought to have originated from this people's love of herbs.
The recipe for this dish as we know it first appeared in Giovanni Battista Ratto's La Cuciniera Genovese cookbook in the 18th century.
However, the Ligurian Chef was inspired by another well-known sauce, the aggiada, which is a garlic-based sauce created with a mortar and pestle and used for food preservation.
The Saint Basileo's Legend | Genovese Pesto | Liguria
According to the legend, a monk in a convent named after San Basilio on the heights of Prà used to collect aromatic herbs that flourished on those hills (called basilium, in honor of Saint Basileo).
He decided one day to mix the few ingredients supplied to him by the pilgrims and after smashing everything, he made the first pesto, which he later developed.
Genovese Pesto |Liguria |Italian Food
It is a Ligurian classic and an example of Italian perfection, and it is among the most famous and adored foods in the world: Genovese Pesto, a delectable cold sauce produced from basilicum, Italy's most beloved plant.
#pesto
#genovese_pesto
#liguria
#italian_food
#italy