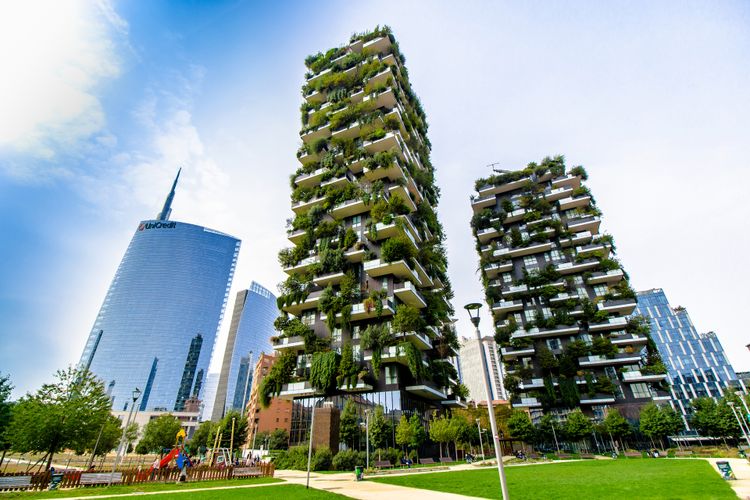 Milan:
the vertical wood of Archistar Boeri
Italian Architecture: when art meets innovation | Milan | Rome
Porta Nuova: Milan
Porta Nuova district in Milan that had been abandoned for 50 years is now one of the most interesting places in Europe for contemporary architecture. The old business district has received new service buildings, luxury residential buildings, commercial and cultural spaces on a total area of about 350,000 square meters.
The project, designed by Hines, is divided into three areas (Garibaldi, Varesine and Isola) with a large central park called "The Tree Library".
The Vertical Forest of Milan by Boeri
Among the innovative buildings, we can mention, for example, the "Vertical Forest", completely inspired by sustainability and biodiversity, rather than the technological aspects of most contemporary buildings. The project consists of two residential towers on which 900 trees grow. The choice of vegetation depends on the compass direction and the layout. Evergreen trees alternate with deciduous trees, changing the building's appearance depending on the season. The building was awarded the prestigious International Highrise Award in 2014.
The Vertical Forest is a spectacular skyscraper designed by the Italian architect Stefano Boeri, who aims to completely redefine the concept of interaction between man and nature in an urban competition. In fact, this magnificent building is the perfect answer to the contradictory needs of the modern urban dweller.
On the one hand, there is the urgent need to be at the center of business and culture; on the other, we register a constant yearning for a rural dimension: a new concept for a more balanced way of life, a slower and healthier pace designed to promote biodiversity.
The two towers that make up this architectural complex are literally covered with hanging gardens, with over 2000 plants and shrubs that create their own microclimate, absorbing carbon dioxide and keeping the atmosphere inside and around the buildings in healthy temperature and humidity conditions. This is one of the best and most widespread examples of contemporary architecture in Italy and is said to have set a new standard in combining style, beauty and sustainability.
MAXXI Museum by Zaha Hadid: Rome
A new cultural awareness is slowly transforming Rome from a purely historical city into an active center for contemporary architecture as well. You can make a unique comparison of architecture from different historical periods with contemporary design by famous architects like Massimiliano Fuksas, Renzo Piano, Richard Meier, Zaha Hadid, Odile Decq, Santiago Calatrava and King & Roselli.
It is impossible to leave Rome without experiencing Zaha Hadid's MAXXI.
The museum, considered one of the largest architectural works in all of Eternal City, explores converging lines that intersect and separate to create both outdoor and indoor spaces. Completed after 10 years as the first national museum of contemporary art in Italy, the project features multiple points of view and a fluidity that challenges Rome's "static" identity and classical heritage. A must-see!
#milan
#porta_nuova
#contemporary_architecture
#the_tree_library
#luxury_residential_buildings
#biodiversity
#maaxi_museum
#zaha_hadid
#rome
#massimiliano_fuksas
#renzo_piano
#santiago_calatrava
#eternal_city