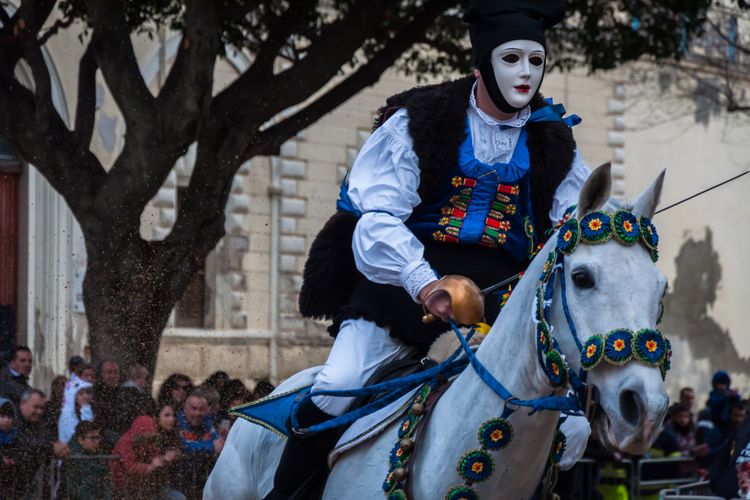 Oristano:
The star joust during Sa Sartiglia
Sardinia | Oristano | Sa Sartiglia
Oristano | Sardinia
Oristano, an ancient medieval town in the western part of Sardinia, is home to many wonderful buildings and is one of the most important places within the island's vast and varied cultural heritage. Oristano represents the noble heart of the island with its monuments steeped in history, since in the past the city played the role of protagonist in the history of Sardinia; in fact, since the 11th century the city center has been embellished with palaces, fortresses, towers and religious buildings.
Sa Sartiglia | Timeless emotion
Sa Sartiglia takes place every year on the last Sunday of Carnival and Shrove Tuesday. The Sartiglia follows a fixed theme that has been established over the centuries, the central figure being Su Componidori, quasi "king" of the celebrations , who is adorned in costume and, after a solemn ceremony of dressing up, is the first to set off on a gallop along the Cathedral street, attempting to pierce the star first with his sword and then with a wooden point ( su stoccu). Then it is the turn of the other knights chosen by him and the meaning of the pierced stars are an omen of good harvest.
The mask worn by su Componidori and the knights also evokes mythical and sacred values, in fact the masks are white in colour and, together with the dress and the hair, it transforms the person wearing it into a deity who has the power to bless the crowd.
#sardinia
#oristano
#sa_sartiglia
#carnival
#shrove_tuesday
#componidori
#western_sardinia