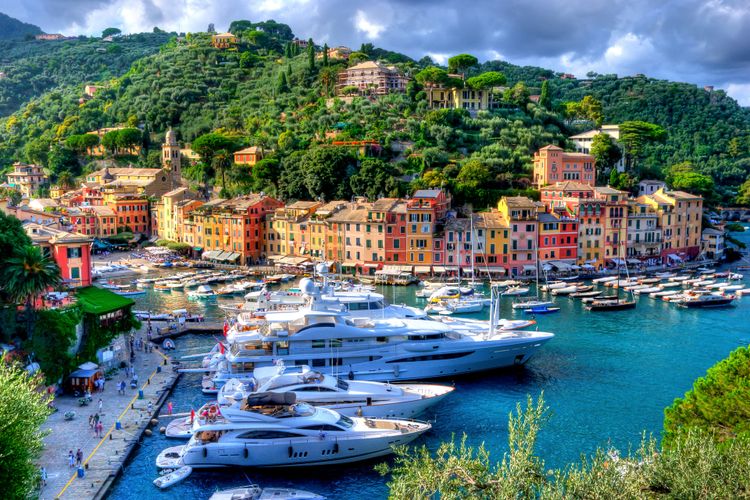 Portofino:
the harbour is one of the most picturesque places.
Cinque Terre | Manarola | Portofino
Manarola | The paradise on the Earth
The landscape of Cinque Terre, the magnificent coastal region in Liguria Region, is simply breathtaking with its green hills lined with terraced olive, lemon and vineyards. They also form a fantastic backdrop to the pastel coloured houses of the charming villages and the cliffs that drop away into the deep blue sea. Lord Byron called this part of the coast " The Paradise on the Earth" and Cinque Terre was added to the UNESCO World Heritage List in 1997. The area is a protected National Park and many come to walk the beautiful trails.
In fact, the trails at Cinque Terre were once the only way to get between the five villages of Monterosso, Vernazza, Corniglia, Manarola and Riomaggiore, which lie on an inaccessible but incredibly beautiful coastline. These days there is a local train and, in the warmer months, local boats linking the villages.
Street food| Enjoy!
If you're a fan of street food, you've come to the right place: in Liguria there is a wide choice, starting with the focaccia, which comes in several varieties: the focaccia genovese, which is spread with olive oil, water and salt, or the focaccia with olives or with onions or with sage or rosemary. The most famous is the Focaccia di Recco: filled with cheese. Another great classic of Liguria is the farinata, made with chickpea flour, which can be enjoyed in winter as an appetiser or snack, or the cartoccio di fritto misto, a tasty version of fried fish with squid, but also anchovies, shrimp and red mullet.
Portofino: loved by the international jet set!
A trip to the famous little town of Portofino, located on the edge of the beautiful Portofino peninsula, is a must. In the bay of Tigullio is the wonderful monastery San Fruttuoso di Capodimonte, located in a small bay near Portofino and surrounded by a protected land and sea area. The monastery was built in the mid 900s by Greek monks and later taken over by Benedictine monks before finally being donated to the state. At the bottom of the sea in the small bay is a famous statue of Jesus. Without neglecting Camogli, where in the waters at a depth of 17 metres is the sunken statue of Christ of the Abyss, protector of divers.
#cinque_terre
#manarola
#portofino
#liguria_region
#focaccia_genovese
#bay_of_tigullio
#monterosso
#riomaggiore
#vernazza
#corniglia
#camogli
#christ_of_the_abyss