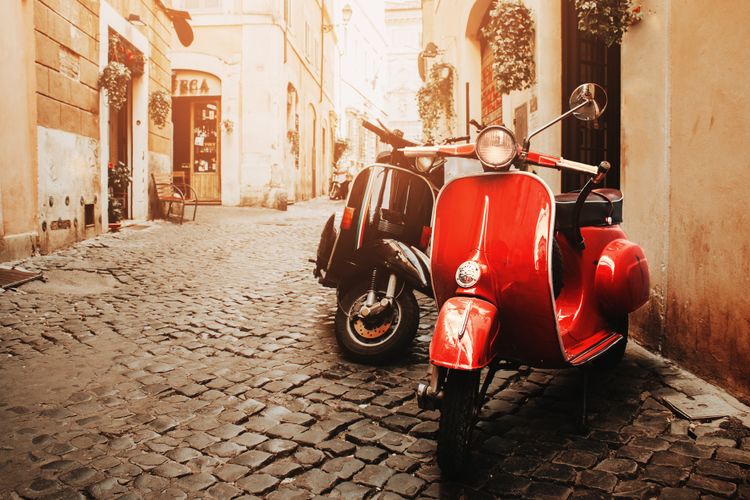 Rome Trastevere:
Vespa a timeless myth and an icon of design
Italian lifestyle | Vespa a timeless myth and an icon of design
it was in the spring of 1946 when the Vespa was first presented, a legend that still moves the world today. And just with the end of the war, we want to get out of those dark times, get back on track and what better opportunity to present the Vespa.
80 lire were enough for this dream of freedom. The first moped that women could ride with ease. In fact, the very first advertisement fully represented the lifestyle of the time: a woman riding her beloved Vespa to work. It was 1946 when women could vote for the first time.
In the popular culture | The films
It was made famous by black and white films in which many actors and actresses became exceptional testimonials. William Wyler in particular, the film "Roman Holiday", in which Audrey Hepburn and Gregory Peck cross the capital on an unforgettable white Vespa, becomes a real commercial for the manufacturer in 1953.
Vespa | Italian status symbol
Over the years the Vespa has become a status symbol, owning it is the dream of thousands of young Italians. It is one of the most coveted and popular objects, especially among the millions of fans who have formed clubs and organize days of get-togethers in various cities in Italy.
Just get on your Vespa and head to Bel Paese, to savor the good time that was.
#italy
#vespa
#films
#italian_lifestyle
#roman_holidays
#design
#italian_status_symbol
#audrey_hepburn
#gregory_peck
#_bel_paese
#icon_of_design